CHEAPART
AKTUELL: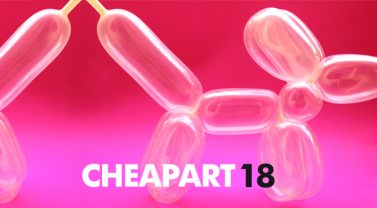 1–23.12.2012
Opening:
Saturday December 1, 2012, 20:00
Cheapart Gallery
Exhareia Square
CAMP Contemporary Art Meeting Point
Kotzia Square
Athens
CheapPARTY 23:00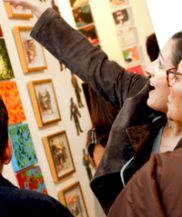 CHEAPART 2012 is the 18th consecutive show in Athens Greece and the primary event to represent CHEAPART'S network of large-scale contemporary art exhibitions all over Europe.
CHEAPART has created the conditions under which artists, curators and institutions have exchanged opinions and developed collaborations and partnerships.
Through CHEAPART shows, artists have the opportunity to expand their reach to a global level, and experience the impact of a major large-scale cultural event that attracts thousands of visitors each year.
CHEAPART 18 is opening at CHEAPART Gallery and CAMP Contemporary Art Meeting Point, with over 150 international artists.
Participating artists:

Avramidou/Daniilidi, Giorgos Angelakis, Elena Athanasiadou, Lila Athanasopoulou, Nikos Aima, Eleutheria Alexandri, Sylvia Antoulinaki, Rania Antypa/Akis Xristou, Maria Andonatou, Giota Apostolopoulou, Ifigenia Apostolopoulou, Sokratis Argitis, Angeles Agrela, Afet Akin, Cemal Akuyz, Maro Vagiati, Andreas Vais, Polixeni Vakou, Margarita Vasilakou, Andreas Vousouras, Peter Baldauf, Giannis Gavalas, Tasos Georgiou, Panos Georgopoulos, Nikos Giavropoulos, Thomas Giatras, Valia Gouzia, Konstantina Gorgogianni, Petra Gell, Irini Dapoulaki, Domna Delliou, Katerina Dimitriadou, Natasa Dialisma/Gyan Gopal, Angeliki Douveri, Thalassini Douma, Klaartje Dullemond, Ende Neu, Regina Fix, Alexandra Zafolia, Stamatis Zervas, Efi Zigouri, Vera Kallianidi, Giorgos Kanellos, Christos Kapogiannakis, Babis Karalis, Nikos Karanikolas, Anna Karatza, Angie Karatza, Vaso Kafkoula, Melina Kahrimani, Ioanna Kemane, Nikos Kokkalis, Alexandros Kolokithas, Leuteris Kolonis, Angelica Kosmidou, Nina Kotamanidou, Kougialis Konstantinos, Terpsihori Kouzouni, Lili Kountouri, Orestis Kourakis, Giannis Koutroulis, Lena Koutsaftaki, Dimitris Kritsotakis, Marina Krontira, Nikos Kiritsis, Evdokia Kirkou, Eleni Kirou-Tsakalou, Amaryllis Kostaropoulou, Mela Kaltenegger, Anne Kern/Harriet Summer, Grigoris Lagos, Chrisa Lamprakopoulou, Epistimi Leousi,Tasos Liakopoulos, Giorgos Lintzeris, Uli Lekkas, Giorgos Makris, Theodora Malamou, Dorina Malliou, Dia Manesi, Anna Maneta, Villy Manolakou, Antigoni Manolidou, Magda Mara, Dimitra Marouda, Konstantinos Mantzanas, Matina Mavronikola, Melania, Sofia Mpakirtzi, Iliana Bardi, Irini Bachlitzanaki, Venia Bechraki, Konstantinos Berdeklis, Ismini Mponatsou, Vasiliki Mposini-Kontovraki, Ilias Boutaniotis, Marisa Mancilla, Christof Mayer, Stephanie Mold, Giannis Nomikos, Richard North, Maria Xanthaki, Maria Xynopoulou, Nikos Palaiologos, Tzellina Palla, Vivi Panagiotou, Pantelis Pantelopoulos, Maria Papageorgiou, Eleni Papadopoulou, Christina Prakente, Giannis Petris, Leuteris Plakidas, Stefano Paci, Karin Maria Pfeiffer, Jose Pinar, Peter Poulos, Nikos Rakkas, Maria Rigoutsou, Verena Rempel, Christian Rupp, Andreas Skokos, Eri Skyrgianni, Anetta Spanoudaki, Lida Sperelaki, Stavroula Spirou, Nikos Stavropoulos, Alexandra Stefanidou, Aris Stoidis, Roula Strataki, Sotiris Sotiriou, Heike Schäfer, Susanna Schwarz, Ellen Semen, Christiane Spatt, Christos Trivizas/Barry Watson, Mantha Tsialiou, Martha Tsiara, Aliki Tsigkri, Maria Tsimpourla, Nikos Tsipokas, Eleni Tsotsorou, Tommaso Taraschi, Maria Falkoni, Makis Fioros, Valentino Marengo, Maria G. Wetter, Eleanna Haviara, Andi Chantzi – didiBliss, Maria Hatzimourati, Pantelis Psarras
CHEAPART Greece
George Georgakopoulos
Dimitris Georgakopoulos
International curators:
Austria: Christian Rupp
Spain: Pablo Berzal
Read more on CHEAPART exhibitions in Athens, Greece